Discover more from Okay History
Historical Humorist. Top 150 History Newsletters on Substack. Trending upward in popularity.
Hello friends! Sorry about last week, but as I mentioned in my quick text, vacationing in Maine is slightly more distracting than I expected.
Anonymous and I spent the week in Castine, Maine, with her parents, sister, and brother-in-law.  I had never been to Maine before, but I enjoyed the scenery. Maine is one big lake filled with lobsters where giant granite boulders stick out of the ground. There are also numerous trees.
It's been a fun week. I have played two rounds of golf, equally divided by positive and negative outcomes. We visited a few breweries, and on Saturday, we took a quick kayaking trip where an underwater animal kindly asked us twice to move out of its feeding area. We followed up that close-death encounter with a lovely boat tour of the surrounding areas and more breweries.
I came to Maine weighing a lot less than I do leaving Maine.
The Maine attraction up here is Acadia National Park. Anonymous and I scaled one of the smaller mountains on Monday, which proved to be a bit challenging as we rock-scrambled up. I must mention that I have a few issues with heights, so it was fantastic to look over my right shoulder when I was near the top and see nothing but sure death if I slipped.
We took some family pictures; hopefully, one of them will be good enough to use as my updated work headshot. The photographers told me I was a natural model and that my current job must be a side hustle.
Here are a few pictures of the trip. Anonymous likes to take photos of others.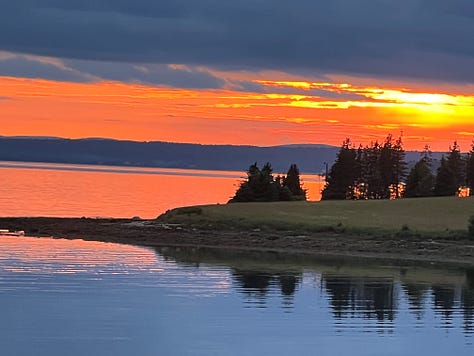 The license plates on Maine cars read "Vacationland," and I have to say, I agree entirely. I looked forward to this trip; despite the long drives, dangerous mountains to climb, and underwater animals who may or may not want to eat us, it delivered. I have no idea if I will ever return, but I hope I do.  If you can visit Maine during the summer, I recommend it.
Okay History is a reader-supported publication. To receive new posts and support my work, consider becoming a free or paid subscriber.
Okay, let's highlight what else happened this week. Here's what I got:
1.      Civil War draft riots began on July 13, 1863.  Fresh off the victory at Gettysburg, working-class Irish immigrants flipped out at being drafted while their rich neighbors were able to pay off their obligation. The riots occurred in New York City over the next few days, and over 100 people were killed.  
2.      President Gerald Ford was born on July 13, 1913. The 38th president was born Leslie Lynch King, Jr. but changed his name to Gerald Ford Jr. after his mother remarried. Ford is the only president who was never elected or assumed the position due to death.
3.      John Joseph Pershing died on July 15, 1948. The General of the Armies was a World War I hero who graduated 30th out of his class of 77 at West Point. Proving that being okay at something can lead to fame.
Maine is so far away that we had to split the drive into two days. I'm back at work for four days, beginning on Tuesday, then returning to vacationing the following Saturday with the annual family beach week. My life is so hard.
I plan to put out a few more essays this week, but work will be busy, and Anonymous will be asking me to do a bunch of stuff as well, so I ask that we play the next two weeks out by ear if that is okay.
Thanks, everyone! I appreciate your support and hope you are in your vacationland somewhere.
Okay,
Chris