Discover more from Okay History
Historical Humorist. Top 150 History Newsletters on Substack. Trending upward in popularity.
If you read this week's Maundy Monday Newsletter, you know at the end I asked this question:
We immediately received the answer: Asking the question.
Thanks to ECM, who once again Asked Me Anything, but he went overboard and asked me this:
And low and behold, the House elected a speaker a few days later!
Representative Michael Johnson, a Republican from Louisiana, became Speaker of the House and second in line to the presidency after over three weeks of Republican conference members arguing with each other after tossing out their first choice Speaker, Kevin McCarthy.
I want to focus on the first question ECM proposed:
Who are the best and worst Speakers in the history of the United States?
It's such a fantastic subjective question. I love it.
Let's dive in. We will begin with who was the worst:
Dennis Hastert (1999-2007)
The 51st Speaker and the longest-serving Republican Speaker in history was a doozy of a man.
Born in Illinois, Hastert began his career as a high school history teacher and coached football and wrestling. During this time, he also sexually abused four students, which would be revealed decades later.
Dennis was then elected to the state House, then Congress. During the 1992 banking scandal, it was found that Big D bounced 44 checks. No matter to his Republican colleagues, he continued to rise in leadership.
Around the time we were impeaching President Bill Clinton over his lies about fooling around with a White House intern, Speaker-designate Robert Livingston of Louisiana announced on the House floor that he was stepping down because he, too, was fooling around and having affairs with women he wasn't married to.
So in comes Dennis.
He supported President George W. Bush's initiatives, including invading Iraq, giving the wealthy more tax breaks, and playing golf poorly.
After leaving the House, Dennis became a lobbyist and received $35,000 a month from the government of Turkey. He apparently needed the money.
It was later discovered that Hastert was withdrawing large cash amounts to pay off those students he had abused while teaching. He was indicted, pleaded guilty, and was sentenced to 15 months in prison.
Newt Gingrich (1995-1998)
Gingrich was also an educator of history, having taught the subject at West Georgia University. He was elected as a congressman in 1980 and steadily moved up the leadership of the Republican Conference.
During the 1994 elections, the GOP won back the House for the first time in about a billion years, and Gingrich was voted Speaker. He immediately sought to remove Clinton from office for sex offenses while, in the meantime, carrying on an extramarital affair with a supposed devout Catholic woman who looked like a wax figure.
Gingrich is credited with the rise of political polarization, coinciding with the gaining popularity of conservative talk radio.
As Speaker, Newt pushed tax cuts for the rich and a new initiative called "shutting down the federal government."
He was charged with 84 ethics violations, but only one stuck, lying about tax laws concerning a college course he taught. After the 1998 midterm elections, which saw Republicans lose five seats, Newt was out.
After the Speaker gig, Newt ran for president a few times because he had a business to run. He now spends most of his days squeezing into suits and barfing on right-wing media outlets. His wife, to this day, remains a wax figure.
---
On the other hand, we have had some pretty good Speakers.
Nancy Pelosi (2007-2011, 2019-2023)
Pelosi became the first woman Speaker in US History when she assumed the gavel after the 2006 midterm elections, where Democrats seized control. She didn't teach history at any level before entering politics.
She opposed the invasion of Iraq, prevented the Democrats from impeaching Bush over it, and passed things like affordable health care and infrastructure.
Pelosi was so effective she even worked with President Trump on trying to remove him from office twice.
On the other hand, Pelosi has also enriched herself over 30 years of being a legislator through stock buying. But everyone else does it; why not her?
Tip O'Neill (1977-1987)
The Massachusetts Representative has the longest uninterrupted tenure as Speaker in US History. He could hold onto this job for that long because he was an impeccable politician.
Likable, respectful, and demanding, O'Neill coined the phrase "all politics is local," which he showed through his domination of his home state. Having been elected to the state House at 24 and bypassing teaching history at any level, O'Neill quickly rose the ranks of Democratic Leadership.
He was the Speaker during most of President Reagan's administration, and despite calling him Herbert Hoover with a smile, they partnered to combat Soviet forces throughout the Cold War.
Reagan called O'Neill a friend after 6:00 p.m. I wonder what Biden will call Johnson other than "Who?"
So ECM, I have no idea what type of Speaker Johnson will be. He looks like someone named Mike Johnson. But he's an election denier and a staunch Trump supporter who worked on his legal team during the second impeachment trial. Johnson has called his work legal ministry, which I guess means being ruthless but justifying it as an act of God.
I don't think he taught history, which is a sticking point for previous Republican Speakers' ethical behavior. Johnson has a lot on his plate. He must try to keep the government open, fund our allies against military attacks, and try to help Trump return to office.
But hey, his Tennessee colleague called him a goober. Which I guess is a way of calling him a friend. At least he knows who Mike is; Senator Susan Collins told the press she would have to google him.
Hey Goober! This is a chance to suggest that if you are not a subscriber, go ahead and subscribe to Okay History, a reader-supported newsletter. Thanks!
What I find funny is the idea that Democrats should have helped Republicans by saving McCarthy. It's not the Democrats' fault the GOP keeps pushing election deniers who may or may not have taught history at some point. If the Republicans were serious about leadership, they could have broken with the Democrats and elected their choice, Hakeem Jeffries of New York. We would at least have a dysfunctional government that appeared open for work.
What are your thoughts on the worst and best Speakers? What do we think about Speaker Johnson?
Blue's surgery on Monday went well. We had a few mases removed from his stomach, back, and eye. The Vet noticed something she didn't like on his tongue, so Anonymous and I approved removing part of it and will look to see if there is anything to be concerned about.
He's had to wear a cone for the past week, and there is one thing Blue hates – anything that he has to wear outside of his collar and leash. He didn't eat for the first few days but has regained his appetite, which probably means his tongue feels much better. Thanks for all the well wishes. He is expected to have the cone and his stitches removed early next week, and then we hope it's back to normal for our boy.
Speaking of next week, there will be no Monday Maundy Newsletter. I will leave on Friday afternoon to attend a retreat in lower Maryland along the Potomac River. It's a religious, silent retreat that I began attending back in 2014 but haven't been since 2018 due to work travel and this little thing called the COVID-19 pandemic. I'm very much looking forward to disconnecting from the world, reading, resting, recharging, and getting closer to God.
If praying is your thing, your thoughts and prayers, in this instance, actually work.
I'll be back at some point. I will travel to Chicago for a conference mid to late next week. But I won't let you miss me too long. Thanks for your support of Okay History. Please hit the like button; it's awesome!
Okay,
Chris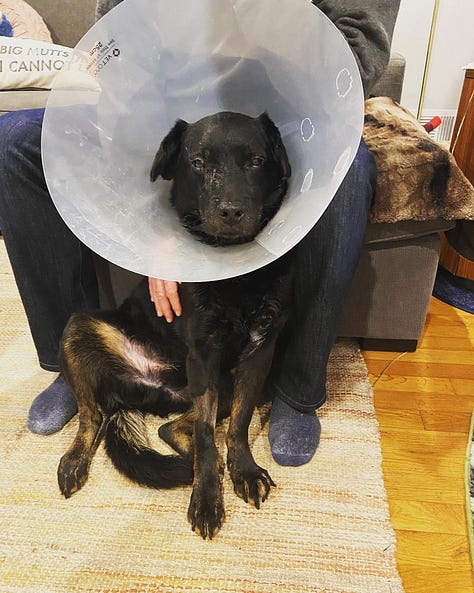 Corrections:

The original post referred to the new Speaker as Matthew. It has been corrected. I still haven't googled him.
I also referred to Blue's bumps as masts instead of masses. Masts are used on boats; masses are things we remove during surgery.